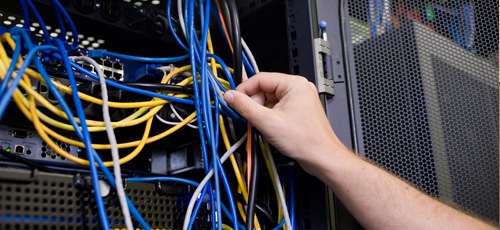 Behind Every Reliable Network, You'll Find Good Cabling.
A1 Computer Services provides reliable information and communication networks. Moving offices—or even organizing an existing one—involves countless potentially stressful details. If you're in the middle of such a project, you have much more to think about than your company's IT system.
Voice, video, data, and other electronic means of communicating are every day, yet integral, parts of any organization. Slowly but surely these systems wear out, offices are remodeled, or businesses open new doors. Ensuring that the "basics" of voice and data are guaranteed means having the right structured cabling and network infrastructure in place with the utmost in service and support.
That's where the experts at A1 Computer Services comes in. Our team excels in the design and installation of structured cabling solutions for both data and voice networks. We work with several key technologies:
Cat5e and Cat6
Data and Voice
VOIP
Phone Systems
Routine and emergency calls
So whether we are involved in a new construction fit out or retrofitting your existing office, we make sure from planning to implementation the job is done right.
Your network is only as good as the people who look after it and the people who installed it. That's why you need to use A1 Computer Services. Call 914.495.3473 today!
WE SUPPORT
Small Business
Large Business
Government
Non-Profit
Police & Fire
Legal Offices
And More...
QUICK CONTACT
Direct: 914-495-3473
16 Mt Ebo Road South
Brewster, NY 10509
Office Hours:
Monday-Friday: 8:30am to 5 pm
Saturday & Sunday: Closed
Support: 24-7-365