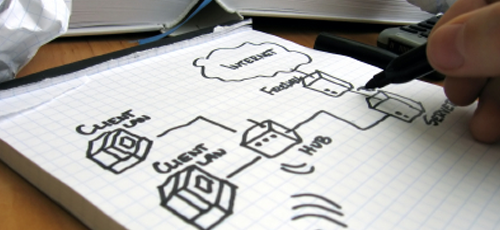 Installing or upgrading your network system? With A1 Computer Services, we can help your company fulfill its IT potential.
For a modern office to function with maximum efficiency it requires a modern IT solution. A1 Computer Services' networking solutions are the ideal answer for any company, from a two-man partnership to a multinational PLC. With A1 Computer Services, your employees can effectively share equipment and data making your company more efficient and more cost effective.
We can design integrated network systems that work with all your employees whether they are home workers, field based operatives or office based we have a solution that will be secure, reliable and flexible. But before you can begin to design a physical network, however, you first must determine your needs. What services must you provide to your users? What are the resources you will need? If you must compromise, what will it take to satisfy the most users or to provide the more important services?
You then must also consider network protocols, applications, network speed, and, most important, network security issues; each of these figures into a network's logical design. Another important factor you can't forget, is the budget. These factors make up the logical design for your network. You should first decide what you need and what it will take to provide for those needs. A1 Computer Services engineers have over 20 years' experience of installing and maintaining high quality networks and will help you very step of the way.
We provide hardware, installation, cabling, software and telephone or on-site technical support. We look forward to working with you and finding the right networking solution working with you/your team and keeping within budgetary and time constraints.
Your network is only as good as the people who look after it and the people who installed it. That's why you need to use A1 Computer Services. Call 914.495.3473 today!
WE SUPPORT
Small Business
Large Business
Government
Non-Profit
Police & Fire
Legal Offices
And More...
QUICK CONTACT
Direct: 914-495-3473
16 Mt Ebo Road South
Brewster, NY 10509
Office Hours:
Monday-Friday: 8:30am to 5 pm
Saturday & Sunday: Closed
Support: 24-7-365