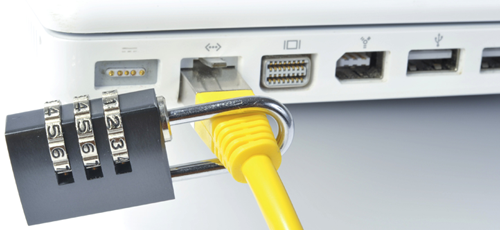 The A1 Computer Services security team can identify threats to your network and make sure your network meets industry security standards.
Cyber Security and Network Security were two of the biggest causes of lost revenue in 2015/16, make sure your company is not another statistic.
We start off by ensuring the security of your computer systems, we believe this is a key part of our responsibilities as your IT support provider. All clients benefit from our extensive experience and carefully developed best practices in making best use of the standard security features for all operating systems. Sadly, gone are the days of buying a Mac and not worrying about malware, Macs can get malware now, including viruses, but it's still less common than on Microsoft Windows computers.
Our IT security team will also advise you on, and implement for you, several of the very latest security measures designed to increase the security of your IT network and infrastructure, to protect you against malicious hacking, viruses, spyware and malware. We can also create for you a custom IT best practice manual to give to employees to keep the network working and less likely to be compromised.
Our team's experience spans many essential Key technologies.
Those we support in the security area include:
SonicWALL, Cisco, Fortigate and WatchGuard firewalls
Barracuda Appliances
Security Compliance
Latest Anti-Virus Technologies
GFI Mail Essentials and Mail Security anti-spam and email anti-virus
Network Security Audits
Microsoft Internet Security and Acceleration Server
Wi-Fi Security
Your network is only as good as the people who look after it and the people who installed it. That's why you need to use A1 Computer Services. Call 914.495.3473 today!
WE SUPPORT
Small Business
Large Business
Government
Non-Profit
Police & Fire
Legal Offices
And More...
QUICK CONTACT
Direct: 914-495-3473
16 Mt Ebo Road South
Brewster, NY 10509
Office Hours:
Monday-Friday: 8:30am to 5 pm
Saturday & Sunday: Closed
Support: 24-7-365